Are you tired of experimenting on LinkedIn with no tangible results to show for it? Well, we've all been there before! Whether you are looking for contractual work or high paying clients, LinkedIn is certainly not for the faint-hearted.
The first time I joined this professional social network, I almost gave up. I didn't know where to start my search for clients or even where to look for short-term jobs. Fortunately, I discovered my mistake – I was not generating enough leads.
So what did I do? Well, I had to go back to the drawing board and re-strategize on a new approach. Lucky for you, all your struggles on LinkedIn are finally coming to an abrupt end. I am going to share with you the top LinkedIn strategies for freelance designers wanting to find high-paying jobs and land long-term clients.
So let's get down to business…
A. Develop the Ultimate LinkedIn Profile
Listen! Your profile is your gateway to landing freelancing jobs and high-paying clients. Unfortunately, many freelance designers do a terrible job when it comes to creating their LinkedIn profiles.
Well, here's some free advice for you. Do not be like the rest. Take your time to fill out all the sections of your profile and focus on highlighting your strengths and skills.
Your profile should consist of a client-focused summary that includes information about your experience, background, education and services. Additionally, make sure you update your profile constantly after every few weeks.
An "All-Star" profile will grab the attention of potential clients and make you stand out from the rest. According to LinkedIn, you are 40 times more likely to land lucrative freelancing jobs if your profile is complete.
B. Make Incredible Connections
The essence of joining a platform like LinkedIn is to connect and interact with like-minded professionals and industry experts, in anticipation of landing lucrative contracts and high paying clients.
To attain this objective, you need to network and build relationships relevant to your profile. Interestingly, you don't even need to know them on a personal level.
Ideally, your network should consist of a wide array of individuals ranging from potential clients to fellow freelancers. After all, the bigger your network, the more chances of getting clients and finding appealing jobs.
A good way to build connections is to reach out to those who view your profile and send out personalized connection requests to prospective clients.
Take advantage of LinkedIn's advanced search function to find people or jobs based on:
Industry
Job title
Location
Companies
Groups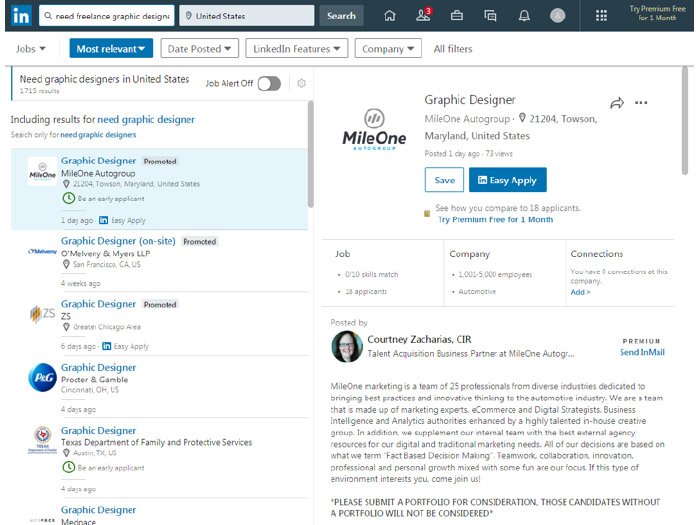 What is more amazing is that you can search for jobs or clients and set up automated alerts that run continuously, on a daily or weekly basis until you land your ideal customer.
C. Communicate your services
Use your About section to speak directly to your target audience and share links to work samples. In any case, it is almost impossible for clients to know the type of services that you're offering if you do not have proof of previous work. Utilizing your About section appropriately can go a long way to make a statement to potential clients.
Ideally, this section should be compelling and persuasive in the sense that every visitor who comes to your profile will never want to leave without knowing more about you and your services.
Importantly, you should also use the About section to create a clear call to action such as connect with me, schedule a free consultation, download a free resource e.t.c to entice potential clients to opt-in and enlist your services.
D. Post Regularly on your profile:
Another top strategy that you should use revolves around sharing content. Well, you do not have to be a professional blogger to post content on LinkedIn. In fact, you can post anything, including videos and images, as long as it offers value to your target audience.
Ideally, your posts should be engaging and raise curiosity. Furthermore, the posts should discuss relevant talking points revolving around the industry, subsequently opening room for conversations with your target audience.
Make sure your posts have compelling headlines and the content is factual and valuable, to increase your chances of getting more viewers and authentic readership.
You should also use hashtags in your posts relevant to your niche such as #posterdesign #graphic design, etc. for enhanced searchability and marketing.
But don't get wrong. Sharing valuable content consistently does not translate into posting every day. You should take a breather lest you risk burning out or boring potential clients.
E. Create a Company Page
As with most social media platforms, LinkedIn also allows its members to create professional groups and company pages. Essentially, you can create a company page to enhance your level of professionalism and attract serious, high-paying clients.
Nevertheless, while creating a page is easy, promoting this page is undeniably the hardest part. However, you can overcome this hurdle easily and increase your page's visibility by:
Optimizing your page for SEO
Adding a follow button to your website
Associating your company page with relevant hashtags
Sharing captivating videos and visual content on your page
Creating a company page is an effective strategy for finding clients. However, it's not enough. After creating the page, you need to link it to your website or blog so that your followers may know more about what you have to offer.
Running a company page demands that you be strategic in your endeavors for finding clients. With that said, you ought to be as active as possible and engage your audience at every opportunity. You can do this by posting articles and case studies on your page regularly on relevant industry talking points that may elicit a discussion.
Lastly, you should share your Company page posts to your profile page to build authority and for SEO purposes. By doing so, potential clients will be able to view and read your posts directly from your profile page. Soon enough, your followers will be able to notice your expertise and authority in the industry hence they will feel more comfortable and confident to enlist your services.
The power of LinkedIn as a platform for finding jobs and long-term clients cannot be understated. However, strategizing is key if you are to make the most out of this platform. Fortunately, by utilizing these top strategies mentioned above, you can rest assured of finding jobs and clients within no time. Try them out today, and let me know how it goes.